What can I say but Knoppix is a great distribution! Always has been. Even back when I was in college I used to use Knoppix on the Microsoft Windows 2000 client desktops just so I can remain somewhat sane and continue to work in an environment I was more comfortable in. Even when I used to be a service technician, Knoppix was always around to be able to perform data recovery/transfers from one medium to the other. Over the years I have continued to use Knoppix as the excellent tool for data recovery that it is. To those less familiar with the GNU/Linux operating system, Knoppix is based off of Debian and designed to run from a CD/DVD. It is a good way to run an operating system without installing it, which also gives you access to all your hardware. The latest CD image is only 661 MB.
With version 6.0.1 I must admit that I was extremely impressed with the load time. It literally took 1 minute for the CD image to be loaded into memory and have me running with my work on the desktop. This is much quicker than what I was used to working with years ago. The desktop environment that you are loaded into is the Lightweight X11 Desktop Environment (LXDE) which I will add, runs beautifully with Compiz Fusion on top of it. All 3D graphically appealing features over Compiz Fusion was extremely impressive for the lightweight GNU/Linux distribution. The great part is that they made available the Compiz Fusion Configuration Manager so you are able to customize even further from its default settings.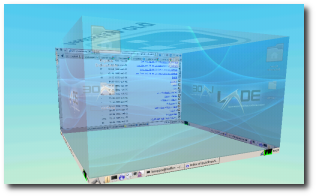 Knoppix recognized all of my hardware with zero problems and came packed with the iceweasel web browser, the Open Office Suite, Pidgin, GIMP, XSane, MPlayer, VirtualBox (which I am interested to see work from CD; note that you are given the option to install Knoppix to your local hard drive), and plenty of more. Navigating the LXDE was simple and smooth along with its native file manager: PCMan. As always, you also have access to your traditional terminal with a wealth of command-line binaries.
I had decided to download and use Knoppix to quickly run a clone of a failing drive using dd_rescue. From the very beginning everything worked great. Knoppix, as I mentioned above, recognized all hardware including the failing and new disk devices. Dd_rescue did its job and saved the day. I am glad that I decided to use Knoppix. I am really impressed with how far it has come along.